Welcome to the UK EISCAT Support Group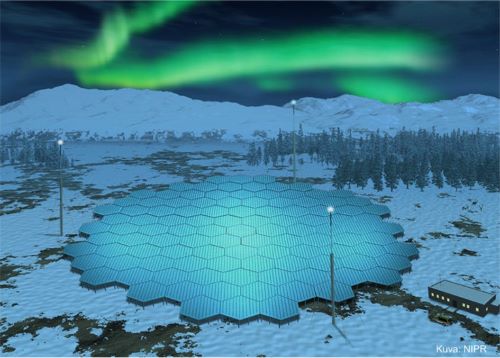 The EISCAT (European Incoherent Scatter) Scientific Association is an international research organisation operating three incoherent scatter radar systems (the UHF, VHF and ESR radars), an Ionospheric Heating facility and a Dynasonde in Northern Scandinavia. EISCAT studies the interaction between the Sun and the Earth, as revealed by disturbances in the magnetosphere and ionosphere.
The great flexibility of the incoherent scatter technique allows a wide variety of experimental modes to be used, optimised for different altitude regions of the ionosphere from the D-region to the topside. Because of this, the EISCAT radars make important contributions to a diverse range of studies from interplanetary scintillation measurements in the solar wind to coupling between the ionosphere and middle atmosphere. The radars run both Common mode experiments, with generally available data, and Special Programmes, in which the data are reserved for the proposing experimenters. EISCAT also made in the past and continues to make a large number of observations in support of satellite missions, including POLAR, FAST, GEOTAIL, Cluster, Swarm, and Arase.
The RAL EISCAT Group supports the work of scientists in those UK research groups using EISCAT data as part of their scientific programme, by providing a computing service, database, analysis programs, data handling software and assistance with the development and implementation of radar experiments.
If you have a specific query, try mailing us at eiscat support.